Reducing Total Cost of Care
& Improving Care Quality
We are helping health care organizations manage the COVID-19 pandemic by using data insights to answer key questions around at-risk populations and their utilization of healthcare services and treatments.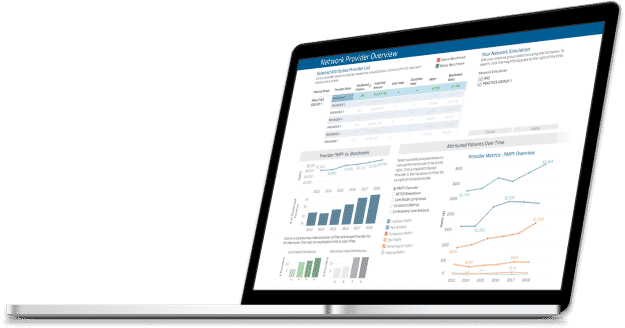 Analytics Driven by the Most Comprehensive, Longitudinal Data Set Available
Physicians and Specialists Profiled
What We Do: Enable Growth, and Drive Network & Clinical Performance Improvements
Develop

High-Performing

Networks
Gather Actionable Market Intelligence
Understand market and competitor dynamics – geographic concentrations of patient activity, utilization by specialty or practice group, and network affiliations – to design competitive rates and contract terms.
Develop High-Performing Networks
Find & Recruit Right Providers in your Region
View existing provider affiliations and complete provider profiles for over 2M+ PCPs and specialists to identify the high value providers to include in your network.
Develop High-Performing Networks
Simulate Network Performance
Match patients to the right providers and care settings and simulate the impact of different combinations of providers on total network performance.
Manage and Improve Performance
Strengthen Referral Management
Understand referral patterns by calculating market share, identify competitor trends, and drill down on provider-level referral volumes for intelligence on how patients pass through your network and make informed decisions on modifying those patterns for the best patient care.
Manage and Improve Performance
Reduce Total Cost of Care
Benchmark providers by analyzing risk-adjusted cost performance and model provider accountability based on longitudinal patient episodes, instead of individual treatments or procedures.
Manage and Improve Performance
Evaluate Quality of Care
Drive quality improvement conversations with low performing providers and model incentive packages for high performing providers.
Enable Clinical Excellence
Segment At-Risk Populations
Leverage peer-reviewed segmentation models, custom segmentation frameworks, cohort profiles and benchmarks, and evaluate chronic condition prevalence.
Enable Clinical Excellence
Eliminate Gaps in Care
Review and drill-down into detailed gap analysis, compliance rate trends, provider and patient-level detail, and cross-continuum care variation.
Enable Clinical Excellence
Hardwire Evidence-Based Care
Use peer-reviewed, proven pathways, modeling best practice savings opportunities, integrating care model benchmarks, and data-driven change in clinical practice.
Serving all Stakeholders in Health Care
Success Stories: Whether Just Starting or Well-Established in Your Value-Based Journey
We Partner with the Smartest Minds in Health Care
Ready to Improve your Networks of Care?
Discover how we can help with a demo and see under the hood.